San Bernardino County Superintendent Ted Alejandre will deliver his two annual State of Education Addresses this month, where he will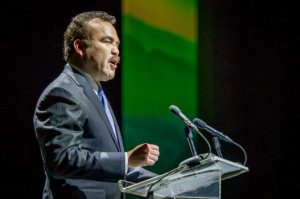 provide updates on the positive developments taking place in our public schools and our Collective Impact efforts as part of the Countywide Vision. The events will also showcase outstanding students and programs from SBCSS and the 33 school districts in our county.
The public is invited to attend both events, which are free. The first will be held on Sept. 19 beginning at 3:30 p.m. at the California Theatre of the Performing Arts, which is located at 562 West 4th St. in San Bernardino. Click here for more information.
The second State Of Education Address will take place on Sept. 25 at the High Desert Church, located at 14545 Hook Blvd. in Victorville. It also will begin at 3:30 p.m. Click here for more information.
The theme of Alejandre's address is "Inspiring Innovation." For more information about the events, contact the San Bernardino County Superintendent of Schools' Communications office at (909) 386-2413.